This darn website has been quiet lately. Life has a way of taking an unexpected turn when I let go of the reins. This is good. At least this time. When I created OutsidewithClyde over a year ago my plans were to begin a post-corporate life turning my love for the outdoors into a full-time passion. Well here I am two job changes later with less time to spend outside and even less time to create content to share with friends. This is good ... for now. and I will follow the current downstream. Hopefully I hear the sound of the waterfalls in time to pull over and get out before launching over the edge!
I have several gigabytes of raw GoPro footage from last year's outdoor adventures that are slowing getting converted into content. The final 2 parts of our fall trip to Lake Louisa in Algonquin Park need to be completed ... so I decided ... to start a new project! Yes, I know, moderation is not one of my strengths. But with the job changes and less time to spend outdoors and work on my website I have been reflecting on why the heck I started this OutsidewithClyde adventure. I suppose there are several reasons but a major motivation was to inspire others to get outdoors and experience the natural world. Hence the website, videos and stuff.
Which is the genesis for my new project ... writing the story of my first back-country canoe trip into Algonquin Park, Ontario in 1990 with our 4-year-old son. That story IS NOT about all the skills and equipment it took to venture into the outdoors because we didn't have any. At least not the kind needed for a trip into Algonquin Park with a 4-year-old. This story will be about just doing it ... jumping in ... or paddling in .. letting go of fear and doubts and giving it a shot.
If you got this far I am surprised and humbled. Unfortunately this incredible story of that first AP trip must wait to be told another day since I am still writing it! Probably on a plane or a train. But I do have a few other tidbits to share today that I hope you enjoy. While sorting and scanning old photos from that first canoe trip I found several pics from a latter trip to Ralph Bice Lake (formerly Butt Lake) in Algonquin Park in 1992 with my wife and two kids.
This is our son in his favorite camping attire or what I refer to as his 'Mowgli' impersonation. There are several campsites near and on the island on Ralph Bice Lake. This is one of our favorites with the rock porch and a sandy landing spot.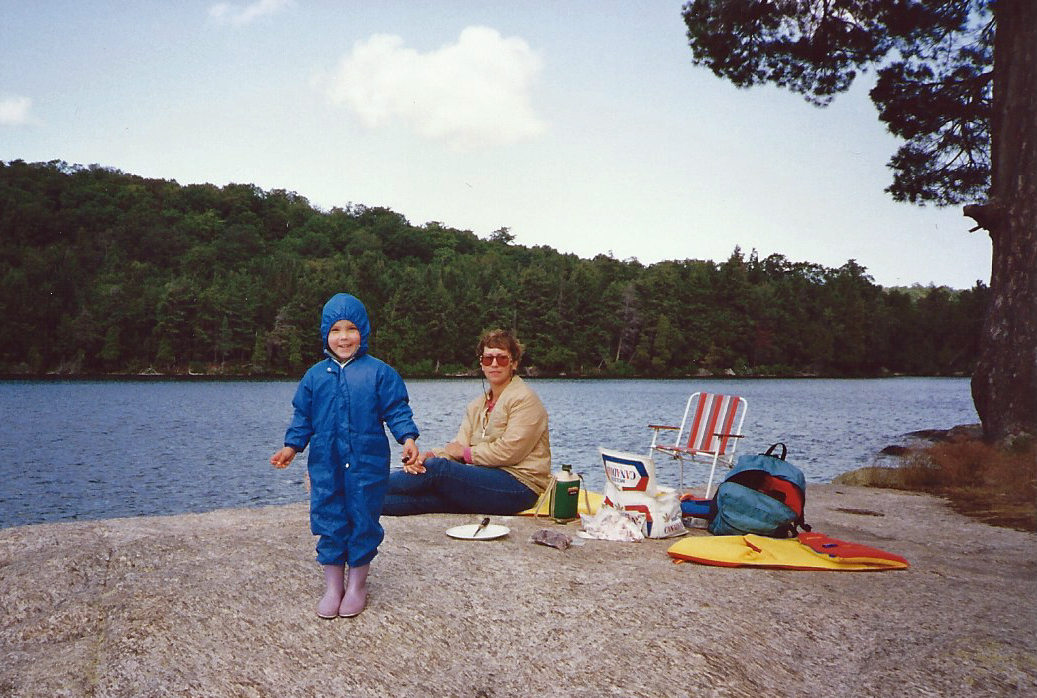 This is our non Mowgli daughter in her favorite Algonquin Park attire enjoying a lunch break on David Lake with her mom Kristine.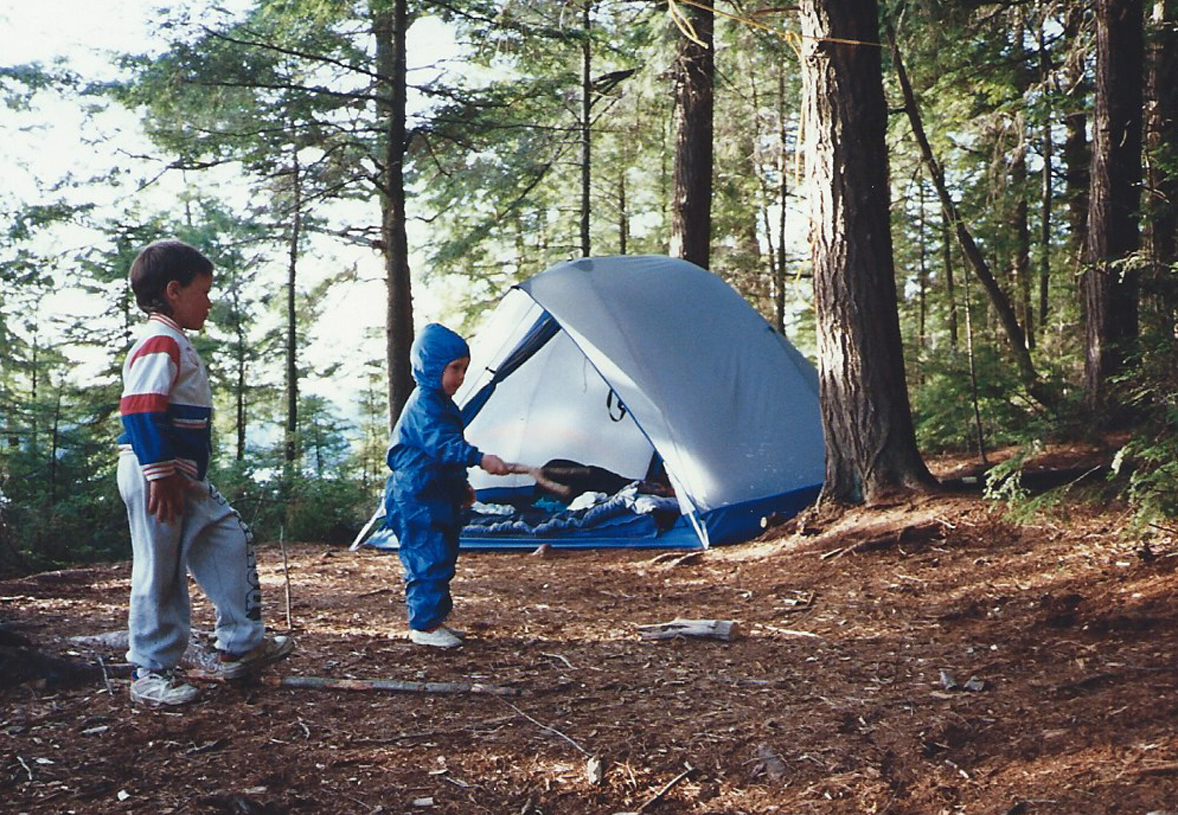 Mowgli and his sister often improvised ways to entertain themselves using organic ingredients. This toss-the-stick game kept them busy in camp for an afternoon.
One our favorite pictures of the Mowgli cubs and their mom enjoying some rest together in the den.
The paddle out at the end of our trip was very wet ...